Red Cross weather cam is up and running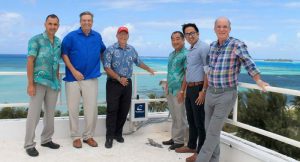 In December 2016, a powerful earthquake hit the Solomon Islands with a magnitude close to 8 on the Richter scale. The Pacific Tsunami Warning Center issued alerts throughout the Pacific in Oceania.
Amongst the islands notified was the CNMI. John Hirsh, executive director of the Red Cross on Saipan, was immediately informed of the possible tsunami threat.
Although the tsunami warning did not generate a destructive wave, Hirsh understood the severity of damage it could potentially have on the islands. It was the start of a collaborative effort—to better equip the CNMI against potential natural disasters.
Hirsh immediately researched and found a solution. He contacted EarthCam, a webcam network in New Jersey that provides Web-camera content, technology, and services to clients worldwide. After receiving a generous donation of a weather-durable Web-camera, Hirsh reached out to business partners to establish the live weather stream.
Hyatt Regency Saipan, located on 14 acres of lush tropical garden with panoramic views of the Pacific Ocean, was one of his first calls due to its location. With a secure rooftop, the live weather camera would provide the Red Cross, Emergency Management, and National Weather Service in Guam live, real-time views of potential threats, not to mention gorgeous ocean views on better days.
"Hyatt has been a CNMI resident for 37 years now, and it is a part of our mission to care of our people—guests, colleagues and especially our community members. The American Red Cross shares these same values, and, we are honored to support their efforts," said Nick Nishikawa, general manager of Hyatt Regency Saipan.
To establish a live, working network, IT&E and Transcend IT Solutions contributed as sponsoring partners. Transcend IT Solutions provided implementation, network and infrastructure design for the project. Working alongside IT&E, the sponsors implemented camera configurations, mounting and installation. Over the course of several weeks, technicians structured and configured cabling to ensure the installation was successful.
"Transcends IT Solutions will continue to provide support and maintenance to the weather camera," said Mark Badal, technology consultant and owner. "Transcend IT Solutions is committed in partnering with the community and non-profit organizations like Red Cross on projects that serve and benefit the community."
"We are delighted that our fiber optic network has been able to assist the American Red Cross and the Saipan community to constantly monitor the approaching weather and therefore be better prepared to deal with severe weather events. This is just one example of how IT&E is working every day to improve the lives of our customers and our community," said John Compton, IT&E chief executive officer.
CNMI residents are encouraged to visit the Red Cross website for live streaming from the newly installed webcam (http://www.redcross.org/local/northern-mariana-islands/live-webcam).
"It's another important tool in our toolbox that enables us to monitor island weather conditions so that we can all better prepare for potential threats. NMI residents as well as the rest of the world can also watch breathtaking sunsets from the rooftop of the Hyatt Regency Saipan. The American Red Cross is thankful for the continued support from our business partners," said Hirsh. (PR)
Resposted from: Red Cross weather cam is up and running